Anyone who has been to one of my seminars in the last 18 months would know how I feel about the incredible talent that is Swedish fashion designer,
Sandra Backlund
. Backlund founded her own label immediately after graduating in 2004 and has since been producing the most incredible sculpted knitwear.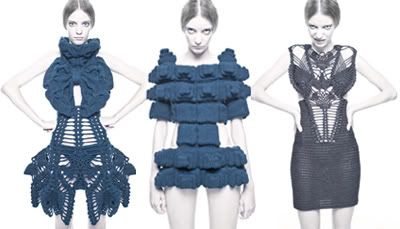 Pool Position, S/S 09
Her last handmade collection, Pool Position, was one of the best examples of traditional techniques in modern fashion that I've ever seen. The formal structures within the sculpted designs are very advanced and intricate and show a true respect for the artisans who developed and mastered these techniques.
"I am interested in almost every traditional handicraft technique. For me it is the absolute challenge. All the levels of skills you have to pass before you can even think about starting to improvise. It is the real thing and everything that the modern fashion industry is not."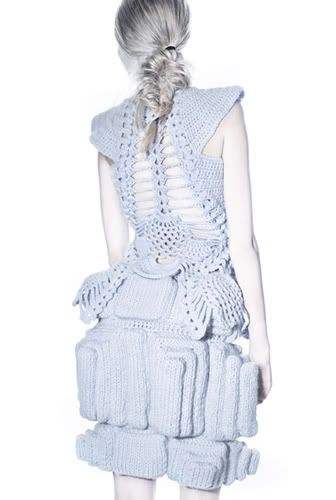 Pool Position, S/S 09
The new collection for F/W 09-10, Control-C, marks an ending and a new beginning for Backlund's practice. This collection marks the first collaboration between Backlund and top Italian knitwear manufacturer, Maglificio Miles and a journey beyond her purely bespoke production.
"It was of course a big step for me to go from working alone in my studio, inventing pieces while doing them by hand, to suddenly be a part of a team of experts within a field of knitwear that I never before have had the chance to get to know. I was over whelmed by all the possibilities I saw for this collection and even though I will never give up doing my hand knitted pieces, I now see how to develop my collections in ways that I never thought was possible."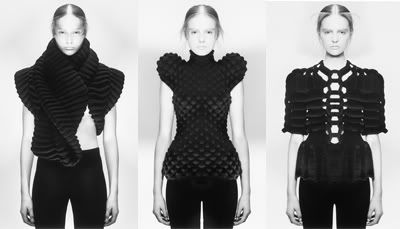 Control-C, F/W 09-10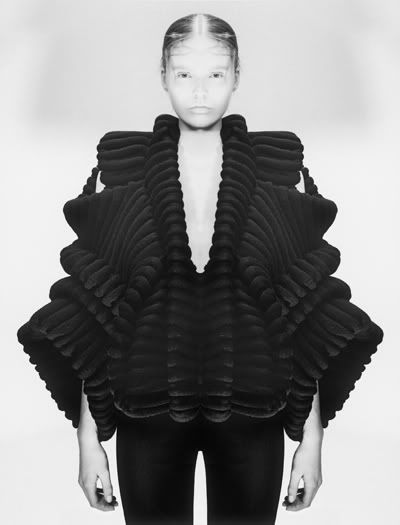 Control-C, F/W 09-10
Her work was also on show recently at Kunstfort Asperen as part of the Retreat exhibition curated by UNstudio. Go
here
for more info and images from this exhibition.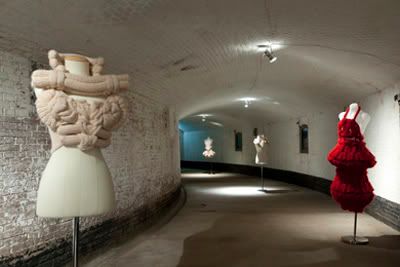 Image from the Retreat exhibition courtesy of
Katrien Franken
Quotes courtesy of Sandra Backlund.