In light of last week's very sad news, this post goes out in memory of Michael Jackson - an artist, an icon, an inspiration. It can be difficult to remain candid with all the sentiment that comes with loss and grief, especially after he lead such a public and controversial life. Besides which, I'm not a pop columnist. So with these things in mind, let us shift our attention to another artist who's 1988 homage to Michael Jackson was fairly definitive and controversial as well.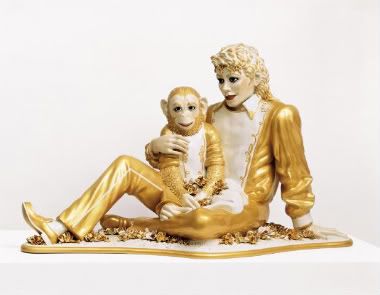 Michael Jackson and Bubbles, 1988 by Jeff Koons
I've always been of two minds over Jeff Koons so I won't go into a critique because I'll make myself dizzy. But I think it is appropriate to note that despite the feverish discussions that have surrounded the value of his work as art,
Michael Jackson and Bubbles, 1988
piece 3/3
sold in 2001
for $5,615,750, underlining the value of his work as a commodity. Robert Hughes' opinions on the subject are as much of a minefield as the work itself but I think in the context of this artwork and the purpose of this post, they are worth referring to so if you have time, take a read of
this old article
from the Guardian. Rather than the content itself, it is the irony that is of primary interest to me with Hughes in this instance being to the art world what a gossip columnist is to show business.
"The art world is now so swollen with currency and the vanity of inflated reputation that it is taking on some of the less creditable aspects of showbiz. Hollywood doesn't want critics, it wants PR folk and profile-writers. Showbiz controls journalism by controlling access. The art world hopes to do the same, though on a more piddly level. No other domain of culture would try this one on."
That's Showbuisness
- Robert Hughes, The Guardian, Wednesday 30 June 2004
We can see now in 2009 that other domains of culture
are
trying that one on. That and other ways to alter their relationship with media and exposure or question the definitions of private and public, free access and copyright, yours, mine, ours. And if you want to see "the vanity of inflated reputation" on a fairly primary level, just look at a few social networking sites and
*eugh hem cough*
blogs.
I'm all for contemporary analysis (see: bread and butter) but artists of the 80's, like stars of the 80's, are easy pickings for critics. Just enough distance for clarity of status, plenty of common memory for context, limited loyalty and only speculatory social perspective. So as far as labelling Koons as "a blow-dried Baptist selling swamp acres in Florida", I think Hughes may be blaming it on the boogie to some extent. I don't think we can choose the icons of our era to suit our tastes and values. God knows I shudder at the thought of Paris Hilton as the iconic blonde of this generation (sorry Marilyn, Madonna) but unfortunately the aggressive social trends don't always make you proud. Whether Koons is a commentator or indicator is open for debate. Take a look at Paul McCarthy's work including
Michael Jackson (Fucked Up)

, 2001
before signing on the dotted line.
The intention had been to use
Michael Jackson and Bubbles, 1988
, as a jumping-off point for discussing some other quite beautiful, strange and often sinister contemporary porcelain design. Having gone off on a completely different and long-winded tangent, let's just leave it with the pictures.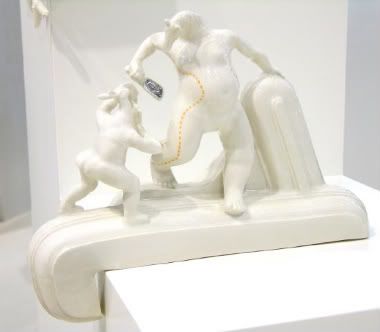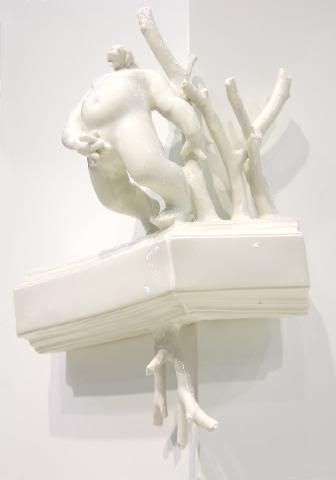 Louise Hindsgavl
, photos by New Black Global Trends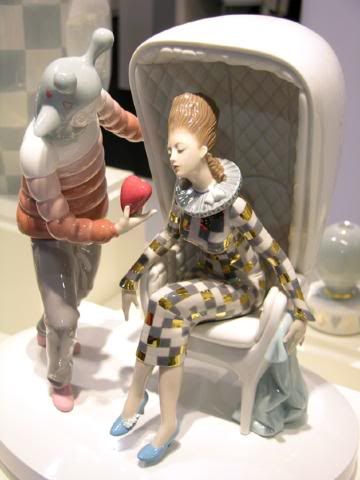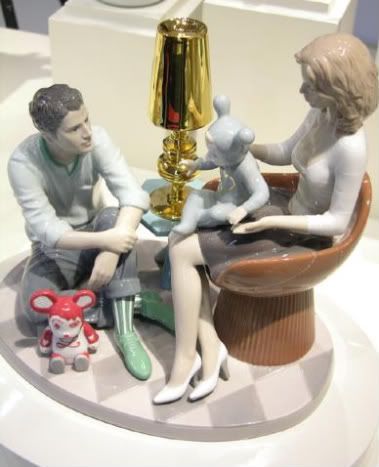 The Fantasy Collection by
Jaime Hayon for Lladró
, photos by New Black Global Trends